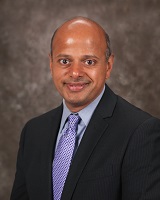 Conditions Treated:
Glaucoma
Cataracts
General Ophthalmology
Interests:
Glaucoma
Surgical treatment of cataracts
Location(s):
Bettendorf, IA
Rock Island, IL
Hospitals and Surgery Center Affiliations:
Spring Park Surgery Center
Education:
Fellowship: Duke University Eye Center, Durham, NC
Residency, Department of Ophthalmology Duke University Eye Center, Durham, NC
Internship: Northwestern University Medical School, Evanston, IL
Medical School: University of Wisconsin Medical School, Madison, WI
Certifications:
American Board of Ophthalmology
Publications:
Wagle NS, Freedman SF, Buckley EG, Davis JS, Biglan AW: Long Term Outcome of Cyclocryotherapy for Refractory Pediatric Glaucoma. Ophthalmology 1998; 105: 1921-26. Also presented at the meeting of the American Academy of Ophthalmology, San Francisco, CA, October 1997.
Castillo M, Mekherji S, Wagle NS. "Imaging of the Pediatric Orbit." Department of Neuroradiology, University of North Carolina School of Medicine, Chapel Hill, NC and Duke University Eye Center, Durham, NC. Accepted for publication in Neuroimaging Clinics of North America.
Activities and Honors:
Appointed to the Iowa Board of Medicine by Governor Reynolds, May 2019
President of the Pleasant Valley Community School Board, Pleasant Valley, IA
Alpha Omega Alpha
Drs. Joseph Dean Medical Scholarship
Ralph M. Waters Medical Scholarship
Student Representative, Medical Student Association
Treasurer, Medical Student Association
Vice President, Medical Student Association
Phi Beta Kappa National Honor Society
Executive Board Student Representative, Phi Kappa Phi National Honor Society
Mortar Board National Honor Society
Golden Key National Honor Society
Wisconsin Student Association Senator
Phi Eta Sigma, Freshman Honor Society
Dean's List – All Semesters
Professional Memberships:
American Society of Cataract and Refractive Surgery
The American Academy of Ophthalmology
Glaucoma Treatment
Glaucoma
Red Eye