What is myopia?
With myopia, also called nearsightedness, people have trouble seeing at a distance. If there is a family history of nearsightedness, it is more likely to occur in children. Most kids aren't aware that they don't see well, and the effect poor vision has on development can be significant. Children with myopia often struggle in school and with other activities due to poor vision and have an increased risk of eye disease.
Childhood myopia is typically diagnosed between the ages of five and seven. Often vision continues to get worse every year and then levels off in the late teen years.
Why aren't glasses good enough?
Glasses and contact lenses can provide effective correction, but they do not address the underlying condition, and vision continues to worsen as children get older. Up to 15% of myopic patients will become highly myopic, which leads to an increased risk of glaucoma, retinal detachment and abnormal blood vessel growth beneath the retina.
At this time, myopia can't be stopped, but now there are non-surgical treatments that aim to manage myopia by slowing down progression in children's actively growing eyes.
What does the treatment involve?
The typical treatment for myopia has been wearing glasses, with frequent prescription updates as vision gets worse. Studies, such as Atropine for the Treatment of Myopia (ATOM 1 and 2) and LAMP, have shown that a low dose of atropine, given to children as an eye drop at bedtime, can slow the progression of myopia.
Myopia is not reversible, and glasses will still be needed, but in many cases with atropine treatment the progression slows by about one-half.
What are the results?
The World Society of Pediatric Ophthalmology and Strabismus has concluded that "Atropine 0.01% dose appears to offer an appropriate risk-benefit ratio, with no clinically significant visual side effects balanced against a reasonable and clinically significant 50% reduction in myopia progression."
Atropine has been used to dilate the pupil and treat lazy eye in children for many years and is not a new medication. Overall the safety of low dose atropine has been extremely good with no evidence to suggest that there are long-term side effects. Drop use may cause slightly dilated pupils and reduced accommodation (focus at near). Both revert to normal when treatment is completed. Some children may be poor responders to atropine. Some may be allergic. Younger children and those with greater myopic progression are more likely to require re-treatment. Specialized contact lenses may also be a treatment option, often for older children. Please discuss any concerns with the doctor.
What's your next step?
If the doctor thinks your child would be a good candidate for treatment, a consult will be scheduled for measurements and education. At that appointment, a prescription for contacts and/or Atropine may be authorized. For Atropine, you will be placed in contact with a pharmacy to order and pay for the prescription, which will be shipped directly to your home. Another appointment will be scheduled with the doctor at six months to measure the effectiveness. Treatment is typically for two years, but may be extended depending on results.
Patient Experiences
Jaya & Tanisha
Tanisha, age nine, started treatment for myopia management at ESA a year ago. Her vision/prescription was worsening quickly (-1 annually). After a year of treatment with Atropine eye drops, her prescription is still at -3.25. Jaya, Tanisha's mom, states, "Our doctor suggested myopia management to slow her prescription change down." Jaya adds, "We were happy to see her prescription hadn't changed."
Tanisha says, "Without glasses, the board at school is very blurry, and I can't see the ball when playing sports. I don't want it to get worse. The treatment is pretty easy. My mom puts the drop in at bedtime. I have to keep my eye really open. It burns a little, just like anytime you get something in your eye, then it goes away. I put my glasses on first thing in the morning, just like usual."
Jaya suggests, "I think parents should try it. Not only may it help prevent their child's vision from getting worse, but it may also help prevent serious eye conditions later in life."
~ ~ ~ ~ ~ ~ ~ ~ ~ ~ ~ ~ ~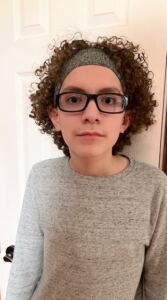 Kali & Ethan
Dr. Frederick recommended trying myopia management for Ethan, age 11 at the time, due to how quickly his myopia/nearsightedness was progressing. Kali, Ethan's mom, states, "I was willing to give it a try. I don't want his vision to get worse or the increased risk of serious eye conditions when he's older. I give him one drop of Atropine before bed every night. After one year of treatment, the right eye hasn't progressed, but the left eye did a little. Not all we were hoping for, but better. We're continuing treatment. After 6 more months with the drops if the left eye prescription still gets worse, we'll add a special contact lens."
Ethan states, "I can see things about an arms- length away without my glasses, but have to squint, and I can't make out small words. I can't play basketball or Frisbee without my glasses." As far as the drops, Ethan says, "It just feels like water going into my eye; it doesn't hurt or anything."
Kali adds, "There's no downside to doing this. Ethan's had no side effects and it's easy. Even if it helps a little bit, it's worth it."