Cataracts Treatment in the Quad Cities
If you are experiencing blurry vision, faded colors, or difficulty seeing at night, you may be suffering from cataracts. At Eye Surgeons Associates, we understand how cataracts can impact your daily life. That's why our team of skilled ophthalmologists is dedicated to providing expert care to the Quad Cities community.
What is a Cataract?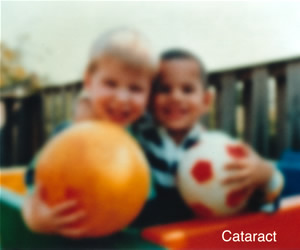 A cataract is a slow, progressive clouding of the eye's natural lens. It interferes with light passing through the eye to the retina. Cataracts are caused by a change in the proteins of the eye, which causes this clouding or discoloration of the lens.
People with progressed cataracts often describe the sensation as looking through a piece of wax paper. A cataract may make the light seem too bright, causing glare, and colors may not appear as vibrant. However, most cataracts develop so slowly that people usually don't realize that their color vision has deteriorated. Oncoming headlights may cause uncomfortable glare at night, making driving more difficult.
To restore clear vision the cataract must be surgically removed and replaced with an artificial intraocular lens implant (IOL). Though cataract removal is one of today's safest and most successful procedures, it is surgery and risks exist. Patients have cataract surgery when they find that the cataract is interfering with their daily activities and the benefits outweigh the risks.
Your doctor and their team will counsel you regarding risks specific to your eye and your general health. We encourage you to bring a friend or family member to your cataract consultation to ensure that all the information is remembered. The most common response the day after surgery is, "When can I have the other eye done?" followed by "Why did I wait so long?"
If your vision is affecting your daily life and your ability to enjoy the world around you, schedule an appointment today.
Causes of Cataracts
Getting older – age is a major cause of developing cataracts
Birth defect like abnormal conditions in the eyes of unborn babies
Environmental factors such as disease, toxic chemicals, medications
Accidents or injuries
Exposure to ultraviolet light
Cigarette smoking
Symptoms
Need more light to read
Frustration from bright lights
Night driving problems
Increased eyestrain
Double vision
Cloudy, fuzzy and blurry vision
Colors seem faded or yellowish
Frequent changes in eyeglass prescription