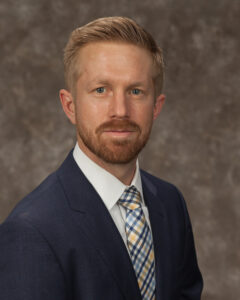 Conditions Treated:
Cornea and external disease
Cataracts
General Ophthalmology
Interests:
Lamellar corneal transplantation (DSEAK, DMEK, DALK)
Surgical treatment of cataracts
Corneal 

cross-linking 

(KXL)
Location:
Bettendorf, IA
Rock Island, IL
Geneseo, IL
Monmouth, IL
Hospital and Surgery Center Affiliations:
Spring Park Surgery Center
Hammond Henry Hospital, Geneseo, IL
OSF Holy Family Medical Center, Monmouth, IL
Education:
Fellowship: University of Utah/Moran Eye Center, Salt Lake City, UT
Internship: Hahnemann University Hospital/Drexel University College of Medicine, Philadelphia, PA
Medical School: Drexel University College of Medicine, Philadelphia, PA
Certifications:
American Board of Ophthalmology
Publications:
Cataracthelp.com dedicated to Cataract Surgery and Lens Replacement Education
Moshirfar M, Fenzl CR, McCaughey MV. Lasik Enhancement: Review of Literature, Clinical and Surgical Recommendations Regarding Management.
Status: In Progress
Moshirfar M, Fenzl CR, Gess, AJ. Corneal Trephination using Moria Single-Use Adjustable Vacuum Trephine.
Status: In Progress
Fenzl CR, Winterkorn J. Differential Diagnosis of Giant Cell Arteritis.
Status: In Progress
McCaughey MV, Mifflin T, Fenzl CR, Moshirfar M. Pseudophacomorphic Glaucoma along with Pupillary Block After Visian ICL Implantation for High Myopia
Status: In Progress
Muthappan V, Smedley JG, Fenzl CR, Moshirfar M. Phlyctenulosis-like presentation secondary to an embedded corneal foreign body.
Status: Submitted to Open Journal of Ophthalmology 7/25/14
Fenzl CR, Golio D. The Impact of Suction Drainage on Orbital Compartment Syndrome after Craniofacial Surgery. J Craniofac Surg. 2014 Jul; 25(4):1358061.
Fenzl CR, Moshirfar M, Gess AJ, Goldsmith J. Glaucoma Drainage Device Associated Corneal Ectasia. World J Clin Cases. 2014 Jan; 2(1):1-4.
Fenzl CR. Found: Answers to a Third-Year Resident's most pressing question. (www.aao.org website) December 9, 2013.
Fenzl CR. Keratoglobus (Eyewiki.aao.org website). January 18, 2013.
Moshirfar M, Khalifa YM, Davis D, Fenzl CR, et al. Descemet stripping automated endothelial keratoplasty using donor corneas with the previous laser in situ keratomileusis or photorefractive keratectomy: a case series and donor cap histopathology. Cornea. 2012 May:31(5):533-7.
Moshirfar M, Fenzl CR, Meyer JJ, et al. Simultaneous and Sequential Implantation of Intacs and Verisyse Phakic Intraocular Lens for Refractive Improvement in Keratectasia. Cornea. 2011 Feb;30(2):158-63.
Activities and Honors:
Committee of Interns and Residents Representative
Jamaica Hospital Alternate Delegate
Intern of the Month Hahnemann University Hospital/Drexel University College of Medicine
Excellence in Professionalism – Drexel University College of Medicine
Professional Memberships:
American Society of Cataract and Refractive Surgery
The American Academy of Ophthalmology