Joyce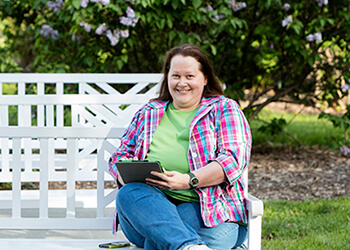 Joyce comments on her cataract surgery with monovision, "This is my vision and I was choosing to have surgery on my eyes. I wanted the best surgeon to do my procedure and I'm glad I chose Dr. Wagle. The surgery was easy, the drops were also easy and I was back at work right away. If your doctor suggests monovision, I say do it. Now I can drive without glasses and sometimes rely on cheaters for very fine close up tasks. I don't even notice that I have monovision. And seeing vivid colors after the cataracts were removed was amazing to me. Things are no longer a blah yellow color."
Sr Judy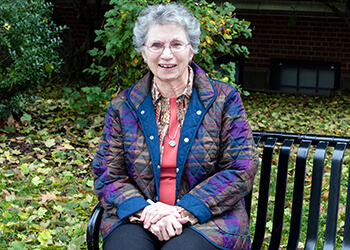 Like many patients with diabetes, Sr. Judy didn't know she had retinopathy. She went in for a regular exam to get a stronger glasses prescription. Her eye doctor discovered the retinopathy and treatment began quickly to give Sr. Judy the best results. Laser treatments and injections have been successful for Sr. Judy of Davenport. "I did the laser first and I've also had injections. The thought of an injection in your eye is much worse than the actual procedure. I just distracted myself during the injection and my eye was numb and I didn't really feel much. The first time was scary. I now have injections every three months. It's fairly easy. I wear an eye patch a few hours after and resume my normal activities later that day. I'm thankful I had an exam to start getting treatment before it got worse. And any time I had a question, the staff was wonderful at putting my mind at ease."
Joy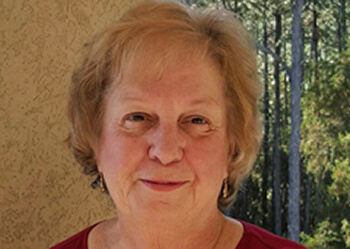 "When cataracts were diagnosed, Dr. Wagle spoke to me about a new procedure that could lower my pressure and decrease or eliminate the need for me to take the eye drops for the rest of my life. In conjunction with the cataract surgery, he could implant an iStent®. He told me it worked like your kitchen drain trap. If he thought I qualified for it, I told him to go for it. In February of 2015, I had cataract surgery and the iStent® implanted. I can't feel it and have never noticed it. He monitored me for two months before taking me off the drops. I'm thankful there is such a device and that I have a doctor who is experienced with the device. I feel blessed."
Larry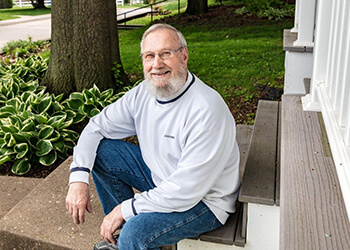 Larry sees the eye doctor at Eye Surgeons and decided to have his hearing checked there as well. A simple test revealed hearing loss in both ears. When told he would need to wear hearing aids, Larry said he wasn't nervous at all about what that would mean. "I was acting as I could hear for a long time and I was tired of pretending. I go now every three months to have my hearing aids checked and I wore my first set for about 10 years. The hearing aids are very comfortable and do the job. I have no complaints," he explained.
Carol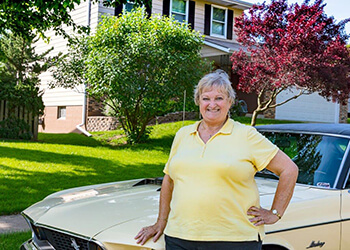 Carol was fitted for her hearing aid at Eye Surgeons, she could immediately hear the difference. She was able to hear a baby crying in the lobby at Eye Surgeons, and the door to her exam room was closed. "It made me cry, too, when I heard that baby cry. And I cried all the way home because I was amazed at what I could hear. Now I tell my husband to turn down the volume on the TV and it seems I can hear everything. Even my dogs sound loud when they bark," says Carol.
Some patients put off having their hearing checked, but Carol was diligent about being checked and didn't stop asking about her hearing until she found the right solution at Eye Surgeons. "It's been a wonderful experience," explains Carol. "I would recommend Kyle to anybody. He's very caring and a wonderful consultant. I'm always glad to see him when I get my hearing aid cleaned every three months."
Rylie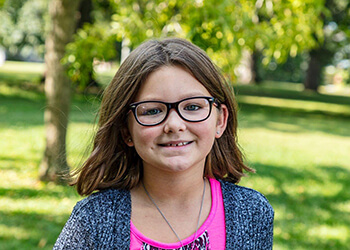 Rylie had lazy eye and astigmatism. Dr. Frederick recommended patching the "good" eye right away to encourage the use of the "bad" eye. Patching therapy typically lasts for weeks or months and sometimes continues over a period of years, as was the case with Rylie. Rylie likes to play with the toys at the Bettendorf Eye Surgeons office and said, "Dr. Frederick is very nice and good. I have fun when I see him."
Deb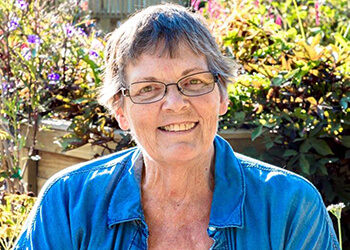 For ESA patient Deb, having a sudden double vision was a warning sign that something much worse was happening. Deb had a sinus aneurysm. "Thank God for Dr. Frederick. He saved my life. If he wouldn't have been on top of it, I'd be dead now. I hope others can learn from this. We're educated on symptoms of heart attacks, but no one talks about what serious systemic problems you could have with the sudden onset of double vision. If you suddenly have double vision, get to your eye doctor. If you don't have an eye doctor, I know a great one."
Denny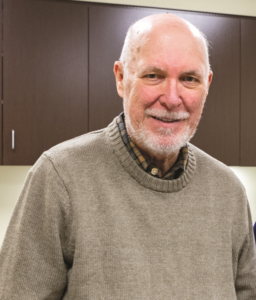 "This is the place to be for eye care," says Denny, an Eye Surgeons Associates patient for five years. Denny has both cataracts and age-related macular degeneration (AMD). He was first diagnosed with dry AMD in the right eye and wet AMD in the left and was referred to ESA by his daughter-in-law who had a positive LASIK surgery experience at Eye Surgeons.
Denny started getting shots for the left eye to maintain his vision.  People cringe when thinking about getting shots in the eye. Denny affirms that he feels no pain or discomfort during the procedure. "A flu shot hurts more," claims a satisfied Denny, "And everyone on staff is polite, professional and accommodating."