Life's greatest moments are filled with the wonders of sight and sound. Since vision and hearing problems can occur together, Eye Surgeons Associates offers hearing services for our patients.
Our offices in Bettendorf and Rock Island offer hearing evaluations and the best in hearing aid technology. We provide you with the same level of quality, service, and value for hearing aids as we do for vision and glasses.

Hearing Health
Recent studies show that up to 50% of the baby boomer population is experiencing significant hearing loss as much as 20 years earlier than previous generations.
Hearing loss can result from many different causes such as exposure to loud noise, an inherited condition, injury or infection and physical changes within the ear caused by aging. It usually develops slowly over many years, so you may not realize that your hearing has gotten worse.
According to the Better Hearing Institute, studies have linked untreated hearing loss effects to:
fatigue, tension, stress, and depression
avoidance or withdrawal from social situations
reduced job performance and earning power
social rejection and loneliness
reduced alertness and increased risk to personal safety
irritability, negativism, and anger
impaired memory and ability to learn new tasks
diminished psychological and overall health
Hearing experts at Johns Hopkins also found that older adults with hearing loss are more likely to develop problems thinking and remembering, than older adults whose hearing is normal. In the study, volunteers with hearing loss, undergoing repeated cognition tests over six years, had cognitive abilities that declined some 30 to 40 percent faster than in those whose hearing was normal.
You should have your hearing checked if you:
Have to strain to hear normal conversation, or watch faces to follow what's being said
Frequently ask people to repeat what they've said
Have difficulty understanding women or young children's voices
Hear ringing or other noises in your ear
Turn up the TV or radio excessively to hear
Have trouble identifying where sounds are coming from
ESA Hearing Specialist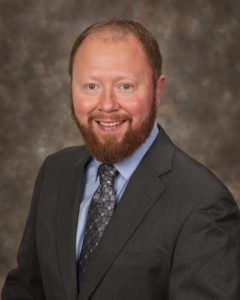 Kyle Kuhlman, BCHIS is a board-certified, licensed hearing instrument specialist. He joined Eye Surgeons Associates in 2009. His expertise is in mild to severe late-onset nerve deafness.
Kyle provides a wide array of professional services including complete hearing evaluations, confidential review of patient case history, otoscopic examinations, audiometric evaluations, speech understanding evaluations, review and explanation of findings, hearing instrument recommendations and selections (if appropriate), counseling, and instruction to patients and family members.
Carol from Davenport, IA has worn a hearing aid for six years. "I would recommend Kyle to anybody. He's very caring and a wonderful consultant. I'm always glad to see him when I get my hearing aid cleaned every three months."

Deve from Geneseo, IL after a visit with Kyle said, "Kyle was very professional, knowledgeable, and patient. He helped me understand the technology and the options available to me. It was a surprisingly pleasant experience. He deserves a serious pat on the back for a job well done!"
Eye Surgeons Associates hearing services include:
Complimentary diagnostic testing
Hearing aid evaluations and fittings
State of the art digital hearing aids
Financing
Cleaning and repair of hearing aids purchased at Eye Surgeons
A hearing aid trial period
We believe in providing the latest technology with personalized care.
The Hearing Evaluation
Utilizing state of the art technology, we systematically perform a series of painless tests designed to predict the body's neurological and mechanical abilities to detect and amplify sound as well as determine your ability to interpret speech. The hearing test time is dependent on the amount of hearing loss and whether or not a hearing aid fitting needs to occur. We allow 20 minutes for an informational consultation and one hour for the full hearing evaluation.
How do I make an appointment to have my hearing tested?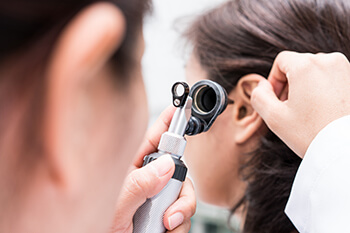 We may be able to perform your hearing loss test on the same day as your vision appointment at our Bettendorf and Rock Island offices. Schedule an appointment by calling Eye Surgeons Associates at (563) 323-2020 or (309) 793-2020.
Hearing Aids
Digital hearing aids are available from a variety of manufacturers and come in all sizes, from behind the ear to completely-in-the-canal options. Today's technology has made it possible to put many features in a tiny package allowing for some discrete styles.
Larry from Bettendorf, IA, "I was acting like I could hear for a long time and I was tired of pretending. I go now every three months to have my hearing aids checked and I wore my first set for about 10 years. The hearing aids are very comfortable and do the job. I have no complaints."
Additional Resources
Hearing Loss Association of America
National Institute on Deafness and Other Communication Disorders