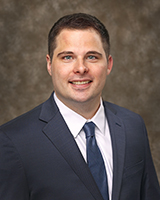 Conditions treated:
Cataracts
Near and Farsightedness, Presbyopia, Astigmatism
General Ophthalmology
Interests:
LASIK & PRK
Clear Lens Exchange/Refractive Lens Exchange
ICL
Surgical treatment of cataracts
Location(s):
Bettendorf, IA
Rock Island, IL
Hospitals/Surgery Centers Affiliations:
Spring Park Surgery Center
Education:
Fellowship: Hoopes Vision, Draper, UT
Residency: Wake Forest Baptist Health, Winston-Salem, NC
Internship: Bassett Medical Center, Cooperstown, NY
Medical School: University of Pittsburgh School of Medicine, Pittsburgh, PA
Certifications:
American Board of Ophthalmology
Publications:
Cheng AMS, Yin HY, Davenport C, Walter K. Clinical outcome of diffractive multifocal lens versus monofocal lens in post-laser in situ keratomileusis patients: A retrospective, comparative study. Indian J Ophthalmol. 2023 Mar;71(3):779-783.
Ashby NS, Johnson TJ, Castillo-Ronquillo Y, Payne CJ, Davenport C, Hoopes PC, Moshirfar M. Cutibacterium (Formerly Propionibacterium ) acnes Keratitis: A Review. Eye Contact Lens. 2023 May 1;49(5):212-218.
Sorrentino DM, Davenport C, Conner IP. (2020) Post-Operative Complications after Non-Valved Glaucoma Device Implantation Due to Rapid Polysorb™ Suture Absorption Time. J Ophthalmic Surg 3(1):16-20
S.G. Daniele, D. Béraud, C. Davenport, K. Cheng, H. Yin, K.A. Maguire-Zeiss. Activation of MyD88-dependent TLR1/2 signaling by misfolded alpha-synuclein, a protein linked to neurodegenerative disorders. Sci. Signal, 8 (2015).
Presentations:
Davenport, C., Yin, H., Wagner, K., Giegengack, M., Walter, K. No Drop Cataract Surgery: The Effect of Intraoperative Phenylephrine/Ketorolac Infusion on Postoperative Cystoid Macular Edema. Oral presentation at ASCRS annual meeting. Las Vegas, NV. July 2021.
Davenport, C., Yin, H., Walter, K. Clinical outcome of multifocal lens versus monofocal lens in post-LASIK patients: A retrospective comparative study. Oral presentation at Wake Forest Ophthalmology Annual Meeting. Winston-Salem, NC. April 2021.
Davenport, C. Bond, B. Post-op choroidal effusion. Oral Presentation at Tri-residency Glaucoma Conference, Durham, NC. 2019
Davenport C, Doko A, Marra KG, Rubin JP. Controlled Delivery System for Adipose Tissue Retention. Poster presentation at Dean's Summer Research Symposium. Pittsburgh, PA. October 2015.
Maguire-Zeiss, K., Daniele, S., Edwards, A., Davenport, C., Beraud, D., Cheng, K., Yin, H. MyD88 dependent and independent microglial responses to oligomeric alpha synuclein: Potential therapeutic interventions. Poster presentation at Society for Neuroscience. San Diego, CA, 2013.
Koltz, P., Mays, C., Davenport, C., Reback, M., Bell, D. Have you been wearing your sunscreen? An evaluation of burn patient knowledge and compliance with UV protection. Poster presentation at American Burn Association. Palm Springs, CA, 2013.
Activities and Honors:
Co-chief resident Wake Forest Baptist Health, Winston-Salem, NC
Phi Beta Kappa
Professional Memberships:
American Society of Cataract and Refractive Surgery
The American Academy of Ophthalmology