Eyeglasses Quad Cities
Eyeglasses not only help you see better but they can also make a statement about your personality!
Consider these tips when trying on frames: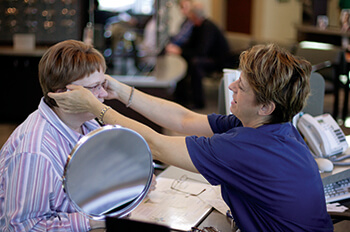 Your prescription may determine the kind of frame appropriate for you. If you are extremely nearsighted, unattractive distortions in your lenses will show up in bigger frames. If your frames are too small, you may lose access to side or peripheral vision.
Consider the color of your hair, eyes, and skin before selecting frames. In general, yellowish skin tone is considered warm so softer, understated colors may be more fitting for this skin tone. Bluish or cool skin tones have success with frames of darker, bolder colors.
Something bold attracts attention to a facial feature whereas something neutral de-emphasizes it. Neutral, rimless glasses in lieu of obvious frames tend to work well for either skin tone or any face shape. If you have a wide face, smaller frames may amplify this feature. If you have delicate features, large frames may look out of place on your face.
Ask about discounts when ordering two pairs of eyeglasses or sunglasses at the same time. Frames for glasses and sunglasses are basically interchangeable, but sunglasses give you the chance to be more bold with style or tint.