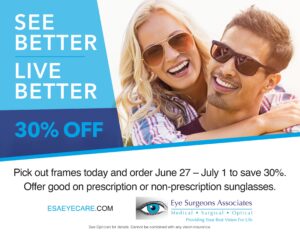 Use our virtual try on and choose from 100s of designer brands. Find the frames you love and complete your order online, or call our optical department to set an appointment to visit in person and get 30% off!
60 day patient satisfaction guarantee.
Talk to optician for details.
Good on prescription or non-prescription sunglasses.
Cannot be combined with any vision insurance.
Order Your Glasses Online!
Browse eye wear from more than 100 designer collections. Use any computer with a webcam or mobile device, so you can see how great you'll look in new frames.
(Need an updated prescription? Call any of our offices to schedule an eye exam or open an account in our Patient Portal, My ESA Online Clinic and schedule online. It's easy to create an account and you do not have to be an established patient.)
Using the menu found by clicking on the magnifying glass, filter your choices by men, women, sunglasses, brands, etc.
Click on "Try On"above the frame you like. A new window opens with the frame you selected (hint you may have to scroll up or down).
Click the button "Try On Now" and it will access your camera to show you wearing the frames.
Want a second opinion? Upload or save the photos and send to friends or family to help select the frame that best suits you.
Add the frame you like to your "Wish List" by clicking on the heart icon.
The Wish List brings up a form. Fill out your contact information and submit it to ESA's optical department.
One of our experienced opticians will contact you to confirm your prescription and measurements and then go over lens options to choose those that meet your vision needs and budget.
(Best used in Google Chrome. Some frames are unavailable for virtual try-on. To see only frames that you can try on, click on the button "Show only frames with Virtual Try-On." Frame styles change regularly and may not be in stock at all locations, but can be ordered.)
Patients ordering glasses from our Frames Gallery, may be directed to this tool by an optician, if we do not have your pupillary measurements on file:
PD Measurement Tool