Slow Changes to Your Child's Worsening Vision
Dr. Sarah Burgett, OD
If your child is between the age of 5 and 15 with myopia, also called nearsightedness, meaning they can't see objects in the distance, and their prescription has changed frequently, they may be a candidate for myopia management. The benefits of myopia management include the following:
Reducing your child's dependence on glasses
Having fewer glasses changes
Enhancing school and sports performance
Increasing self-esteem
A relatively new treatment in the U.S., myopia management has been offered abroad for several years. Myopia can't be stopped, but it can be slowed.
The best thing a parent can do for their child's visual health is to ensure their child gets a regular eye exam. Often kids adapt and do not realize things are blurry because they do not know what clear vision looks like. Some kids are perfectly treated with glasses or contacts. However, some kids start progressing to higher glasses prescription strengths much faster. When this happens, myopia management treatment is recommended.
Treatment Option – Atropine Drops At Bedtime
There are several treatments to help slow the progression of vision changes. One option is using a low-dose eye drop called atropine before bedtime. It has shown to help slow the progression of vision changes by about 50%!
This drop has been used for decades in the treatment of other ocular conditions. However, about 1/20 of the dose is recommended for children undergoing myopia management. Therefore, it carries a much lower risk of side effects. Some side effects include a little bit of blurry vision up close and a greater sensitivity to light. A change to the glasses prescription can help manage these symptoms, and once the drops are stopped, the side effects are reversed.
Treatment Option – Specialty Contact Lenses
Another treatment option is specialty contact lenses. These lenses are available in a monthly and daily option and have the same increased infection risk as all contacts. This is a good option for kids old enough to care for contact lenses.
Case Study
Taylor, started wearing glasses in kindergarten. She had been getting a new, higher prescription every six months, which meant the expense of glasses and contacts as she got older. Dr. Isgrig recommended her as a candidate to the program because of her rapid prescription changes and her worsening vision. Her prescription is a -7.25. Taylor, now age 14, was responsible about wearing contacts, so she got the dual treatment of contact lenses and Atropine drops. Taylor also puts the drops in herself at bedtime.
Taylor's mom Christa shared what the experience has been like. "In the first 6 months of treatments, Taylor's prescription only increased a very little bit, about .01. She's had a few minor tweaks, but really no progression in prescription. The drops dilate Taylor's eyes and make her light sensitive but she's used to it and wears sunglasses if needed. Taylor is so excited not to have to go to the eye doctor every 6 months anymore. I'm excited her vision isn't getting any worse and that I no longer have to buy new glasses and/or contacts every six months. I'd absolutely do it in a heartbeat again, if my other kids needed it."
Most of the children in the program have benefited from the treatment. This simulator, while it doesn't go up to a -7.25, provides an example of what a high myope sees.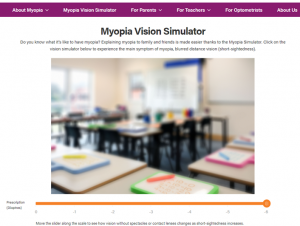 https://www.childmyopia.com/vision-simulator-tool/
As a high myope, a prescription greater than or equal to a -6 diopter, her cataract risk increases five times, glaucoma 14 times, retinal detachment 22 times and myopic maculopathy 41 times. For more than -9 diopter, retinal detachment risk is a frightening 44 times greater, and myopic maculopathy 348 times greater than that experienced by an emmetropic (someone who doesn't wear glasses) or a farsighted patient. Every diopter in progressive myopia matters. For the moderate myope between -2 D to -6 D, cataract risk increases three times, glaucoma four times, retinal detachment nine times and myopic maculopathy ten times.
Lower Risk For Vision-Threatening Conditions In The Future
At Eye Surgeons, we offer myopia treatment for kids aged 5 to 15. The length of treatment varies by patient. Slowing the progression of myopia not only puts the child at a lower risk for vision-threatening conditions in the future, but it also allows them not to have to reach for their glasses or put their contacts in to see their alarm clock.
I am excited we now have something we can do to help slow the progression of nearsightedness in children. Managing myopia at a young age has benefits kids can carry for the rest of their lives.
BIO: Dr. Sarah Burgett is an optometrist with Eye Surgeons Associates working in Rock Island. Her clinical interests include primary care, medical co-managment and myopia managment. For more information visit our Myopia Managment page.
The material contained in this article is for informational purposes only and is not intended to be a substitute for professional medical advice, diagnosis, or treatment. Always seek the advice of your physician or other qualified health care provider.