Treating Keratoconus
iLinkTM Corneal Cross Linking
Dr. Carlton Fenzl
Keratoconus is a non-inflammatory eye condition in which the typically round dome-shaped cornea progressively thins and weakens causing the development of a cone-like bulge and optical irregularity of the cornea. This causes blurring and distorting of vision and increased sensitivity to light. It's estimated to affect about one in 2,000 people, but with varying degrees of severity.
Keratoconus typically appears in individuals who are in their late teens or early 20s, can be hereditary and affects people with Down syndrome. It may progress for 10-20 years and then slow or stabilize, but by then may have caused significant vision loss. The cornea is responsible for focusing the light on the retina enabling us to see. Therefore abnormalities of the cornea can have a major impact on simple tasks like driving or reading.
In the early stages of keratoconus, standard eyeglasses may correct the mild amount of nearsightedness and astigmatism. When the disease advances, contact lenses are often the only way to correct vision. Most of the time, this is a permanent and successful remedy. The contacts must be fitted with great care, and most keratoconus patients need frequent exams and contact lens changes to achieve good vision and comfort. Contact lenses, including special "keratoconus lenses," act as a new refractive surface to help improve the visual acuity of the patient by "masking" the cone shape of the cornea. A proper contact lens fit is essential for good vision and to maintain proper corneal health.
Contact lenses can greatly improve the visual acuity of the typical keratoconus patient. However, keratoconus can advance to the point that either significant astigmatism or severe scarring diminishes the patient's ability to wear contact lenses and/or limits the visual acuity. At this point, surgical intervention is usually recommended. Roughly 10-15% of keratoconus patients will require some form of corneal transplantation. Even after a successful surgery, glasses or contact lens correction are often needed due to residual astigmatism.
Two other treatments to address earlier stages of keratoconus are available that attempt to stabilize the thinning cornea, and potentially avoid progression of scarring, and the need for more invasive surgery.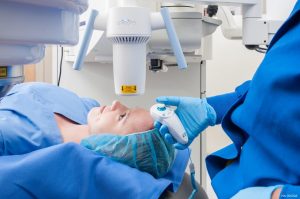 iLinkTM corneal cross-linking (KXL) is a minimally invasive outpatient procedure, FDA-approved for progressive keratoconus and corneal ectasia following refractive surgery.
The iLink procedure combines the use of specially formulated prescription eye drops called Photrexa® (riboflavin 5'-phosphate ophthalmic solution) and Photrexa® Viscous (riboflavin 5'-phosphate in 20% dextran ophthalmic solution), with ultraviolet light from the KXL System to help stiffen and strengthen the cornea that has been weakened by disease. The medical necessity of iLink has become widely recognized. As a result, commercial insurance coverage for the procedure is now over 95% in the United States.
Intacs are the second treatment option. Intacs are inert corneal "rings" that can be implanted into the corneal tissue. They act as "struts" to flatten the steep cornea and potentially allow successful contact lens fitting.
With the options available now, a keratoconus patient can obtain very functional vision in today's world of eye care.
BIO:
Dr. Carlton Fenzl, with Eye Surgeons Associates, is certified by the American Board of Ophthalmology and received subspecialty credentials in diseases and surgery of the cornea. He practices at ESA's Rock Island and Geneseo, IL clinics and Bettendorf, IA clinic. For more information visit Eye Surgeons Associates cornea page.
The material contained in this article is for informational purposes only and is not intended to be a substitute for professional medical advice, diagnosis, or treatment. Always seek the advice of your physician or other qualified health care provider.
INDICATIONS
Photrexa® Viscous (riboflavin 5'-phosphate in 20% dextran ophthalmic solution) and Photrexa® (riboflavin 5'-phosphate ophthalmic solution) are indicated for use with the KXL System in corneal collagen cross-linking for the treatment of progressive keratoconus and corneal ectasia following refractive surgery.
IMPORTANT SAFETY INFORMATION
Corneal collagen cross-linking should not be performed on pregnant women.
Ulcerative keratitis can occur. Patients should be monitored for resolution of epithelial defects. The most common ocular adverse reaction was corneal opacity (haze). Other ocular side effects include punctate keratitis, corneal striae, dry eye, corneal epithelium defect, eye pain, light sensitivity, reduced visual acuity, and blurred vision.
These are not all of the side effects of the corneal collagen cross-linking treatment. For more information, go to www.livingwithkeratoconus.com to obtain the FDA-approved product labeling. You are encouraged to report all side effects to the FDA. Visit www.fda.gov/medwatch, or call 1-800-FDA-1088.