By Michael Boehm, M.D.
"My eyes often burn, look red, and feel dry by the end of the day."
Have symptoms like these become a daily nuisance? According to research, over 16 million Americans have been diagnosed with dry eye disease. The risk of developing dry eye disease increases with age. And women are more likely to develop the condition compared to men. Dry eye disease is becoming increasingly common in younger people, with the regular use of devices like smartphones, laptops and tablets.
Our tears maintain the health and function of the external eye. Dry eye disease is diagnosed when either the quantity or quality of this tear layer is abnormal, leading to an inflammation on the eye's surface. The eye's lacrimal gland produces the watery layer of our tears. The meibomian glands within the upper and lower eyelids secrete the lipid or oily layer. Dry eyes can occur when there is a loss of natural balance, either from external or internal problems, with any of these layers. It also happens when the oil glands get clogged, becoming dysfunctional and permanently damaged over time, leading to worsening dry eye symptoms. These factors can lead to uncomfortable and often frustrating symptoms, including dryness, burning, itching, foreign body sensation, blurry or fluctuating vision and red eyes.
Dry eye disease and reduced production of tears are associated with aging and hormonal changes, such as menopause. Systemic medications including blood pressure medications, antidepressants, and antihistamines, can also decrease tear production. Certain medical conditions such as rheumatoid arthritis and Sjogren's syndrome are also linked with dry eye. External factors like cigarette smoke, dry or windy environments, and contact lens use can also contribute to dry eye disease.


In years past, doctors could only rely on your description of the symptoms and the eye exam to diagnose dry eye disease. They had no good way to measure whether the dry eye was getting better. Now with TearLab technology available at Eye Surgeons, you can be tested and given objective results about the tear quality immediately. Your doctor will obtain a small sample of tears from each eye and use the TearLab to measure osmolarity, which evaluates the aqueous or watery layer of the tear film. The sample required is no larger than the period at the end of this sentence and only takes seconds to collect. We all have salt in our tears. If the watery layer evaporates, it leaves us with too much salt and high osmolarity. Within moments of tear testing, we know the osmolarity level in your tears. (> 300 is somewhat dry, and > 305 usually causes symptoms).
Eye Surgeons also offers the InflammaDry® test to detect elevated matrix metalloproteinase 9 (MMP-9) levels, an inflammatory marker that is consistently elevated in the tears of patients with dry eye disease. This test is used to evaluate the possible inflammatory component of dry eye. If inflammation is present, specific eye drops may be indicated for treatment.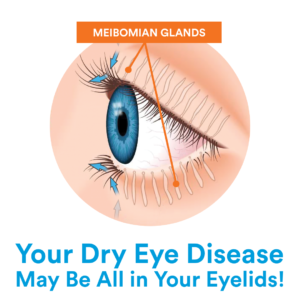 The LipiScan is a high-definition oil gland imaging device that allows eye care professionals to assess the eyelids' meibomian (oil) gland structure. With this advanced testing, we can now identify the specific problems and address the exact cause of dry eye disease. The test results will allow your doctor to personalize your treatment plan, ensuring the proper treatment for your specific condition.
Dr. Boehm is a board-certified ophthalmologist at Eye Surgeons Associates with a fellowship in cornea and external diseases with a special interest in dry eye. He practices at our Bettendorf and Rock Island offices. Eye Surgeons is an Accredited Dry Eye Center. For more information, please visit our website at www.esaeyecare.com.
The material contained in this article is for informational purposes only and is not intended to be a substitute for professional medical advice, diagnosis, or treatment. Always seek the advice of your physician or other qualified health care provider.