By Dr. Carlton Fenzl ~
Tired of your glasses? The new advanced technology lens options used today during cataract surgery can reduce your dependence on glasses.
A cataract is a thickening or clouding of the natural lens that occurs as we age. When it becomes visually significant, we remove it and replace it with a new plastic lens. Prior to surgery, measurements of the front surface, as well as the length of the eye, are taken. These measurements allow us to customize the lens to give patients the best possible vision.
The standard replacement lens used in cataract surgery is a monofocal lens. It allows a person to focus their corrected vision for one point, usually for distance. This is best for people who want to drive and watch TV without glasses, but you will typically need glasses to see up close. Others who are used to reading without glasses may want to keep their near vision clear and wear glasses for driving.
Patients with astigmatism have slightly different options. Astigmatism must be corrected in order to have clear vision after cataract surgery. There are two ways to correct astigmatism.
The first is a relaxing incision. Small amounts of astigmatism can be neutralized by creating a relaxing incision within the steep part of the cornea. This reduces the astigmatism and makes the vision clearer. The incision can be performed manually or with a laser. Our practice has moved almost exclusively towards using a laser to create the relaxing incisions, because of its accuracy and precision.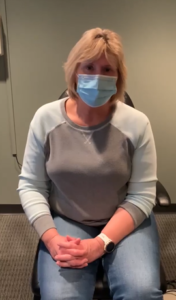 The second way to correct astigmatism is using a toric lens. These lenses are designed to neutralize moderate to large amounts of astigmatism. When aligned appropriately, these lenses can turn vision that would normally be very blurry into clear vision. It is important to note that some types of astigmatism cannot be corrected safely. Your doctor should determine whether you are eligible for astigmatism correction. Patients that have astigmatism correction typically enjoy excellent vision at one distance, but they may still need glasses for other distances. Patricia had cataract surgery with toric lenses, hoping after 50 years to be able to see distance without glasses. She still has to remind herself at night that she no longer has to remove her contacts. Check out her story in this Facebook video, where she exclaims, "It's a miracle."
Both the monofocal lens and the toric lens can be used for an option we call blended vision. One implant is designed to correct for distance vision in one eye and the other implant is calculated to correct for intermediate vision (computer screen, shopping, etc.) in the other eye. The brain merges the two images without most patients' awareness. Many contact lens wearers are familiar with this concept. It works well for average daily activities without glasses. It does trade away some distance and depth perception to provide the near help. You may need glasses for sharpest vision at extremes of distance and near.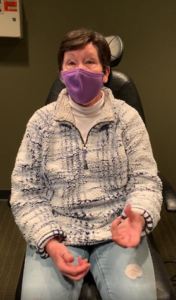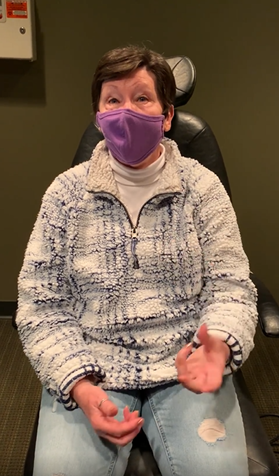 The final lens type is multifocal. This lens is the best option for patients who are looking to reduce their dependency on glasses. It allows patients to see well at multiple distances at the same time. The goal is to have clear distance, intermediate, and near vision. Some patients do, however, need glasses for small print or driving. Patients who already have serious problems with their eyes like macular degeneration, moderate to severe glaucoma, or corneal scars are not good candidates for a multifocal lens. Additionally, this lens can cause glare and reduced contrast sensitivity when compared to standard monofocal lenses. Deborah recently had multifocal lenses implanted during her cataract surgery. She no longer needs glasses for anything and comments, "No more having to put glasses on and off and forgetting where I put them, and no more falling asleep in front of the TV with my glasses on. I see wonderfully for driving and reading." Listen for yourself in her FaceBook video.
The good news is technology is constantly improving. The intraocular lens technology we have today is significantly better than 5 to 10 years ago. If you want to reduce or eliminate your need for glasses, ask your doctor if the most advanced lens technology is right for you.
BIO: Dr. Carlton Fenzl, with Eye Surgeons Associates, is certified by the American Board of Ophthalmology and received subspecialty credentials in diseases and surgery of the cornea. He practices at ESA's Rock Island and Geneseo, IL clinics and Bettendorf, IA clinic. For more information visit Eye Surgeons Associates online at www.esaeyecare.com.
The material contained in this article is for informational purposes only and is not intended to be a substitute for professional medical advice, diagnosis, or treatment. Always seek the advice of your physician or other qualified health care provider.