Cataract Surgeon and Comprehensive Ophthalmologist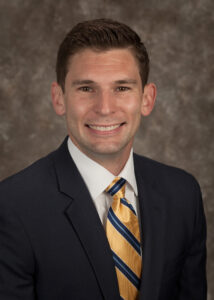 Dr. Yemm grew up in Galesburg, Illinois and obtained his bachelor's degree from the University of Illinois at Urbana-Champaign in Molecular and Cellular Biology. He completed his medical training at the University of Illinois, College of Medicine at Peoria and residency in ophthalmology at the University of Colorado School of Medicine in Aurora, Colorado.
Dr. Yemm has the latest training in surgical procedures including standard and complex cataract surgery, laser-assisted cataract surgery, and toric and multifocal lens implantation. He is also trained in minimally invasive glaucoma surgery.
In his spare time, he enjoys skiing, hiking, golf, and attending University of Illinois games with his family and friends.
Dr. John Frederick, President of Eye Surgeons, comments, "We are excited to have Dr. Yemm join the practice. His skill, qualifications, dedication, and local roots will be a great asset to Eye Surgeons and the community."
Dr. Yemm will see patients in our Bettendorf, Iowa and Rock Island, Illinois clinics. He will have privileges at Trinity Medical Center and Spring Park Surgery Center. Dr. Yemm adds, "I'm pleased to be returning to Illinois and making the Quad Cities home for my family. I'm excited to be working in a multi-specialty practice that provides quality and compassionate care for its patients."