Dr. Howcroft has generously agreed to come out of retirement on a part-time basis to assist Eye Surgeons with our growing demand for medical retina care and Dr. Elshatory's upcoming departure in October. Dr. Howcroft cared for patients at Eye Surgeons Associates for 14 years until retiring in December of 2016. He is board certified and fellowship-trained in vitreoretinal surgery. Prior to joining Eye Surgeons Associates, Dr. Howcroft was an Associate Professor of Ophthalmology at St. Michael's Hospital, University of Toronto, Canada, where he served as Chief of the Department of Ophthalmology 1992 -1999.
After 40 years of practicing medicine, Dr. Howcroft had been ready to slow down, which at the time meant retirement. He found it was a challenge to fill up his day and adds, "I missed the people, both patients and staff. I caught up on my reading, golfed more than I ever have, spent time in Arizona and with my kids and grandkids in Canada." He's found working part-time is just what he needed, and he hopes it will eventually help transition into full retirement.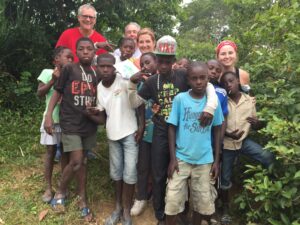 During his initial retirement, an opportunity through his church, St. Paul The Apostle, to help in Haiti came along. In 2017 St. Paul planned to build a new church for the people of St. Francis in Courette, which is 50 miles from Port-au-Prince and a three-hour jeep drive on rugged terrain. Courette is in the mountains and within walking distance of the border of the Dominican Republic. One of a group of five, Dr. Howcroft stayed at St. Vincent's Health Center, consisting of a clinic on the first floor and guest rooms on the second. "I did see a few patients, but mostly we were there to see the site and meet with the contractors and priest. We facilitated the leg work to prepare the church for construction. It's completed now and I hope to return when conditions are better to visit."
Dr. Howcroft adds, "It's the worst poverty that I've ever seen, but the people were kind and hard working. The Haitians drove motor bikes for transportation. If someone was sick and needed to be brought to the clinic, they would sandwich the sick patient between the driver and another rider in back to keep them on the bike. When visitors left the clinic, they were immediately followed by 15 to 20 children hoping for any gifts like sunglasses, hats or shoes. The people there have so little, but they are still happy."
When asked about coming back to practice during COVID-19, Dr. Howcroft commented, "These are interesting times for practicing medicine. If anything positive can come out of the pandemic, it's hopefully the resurgence of vaccinations and public knowledge of germ management to keep us healthier for ourselves and each other."
Dr. Howcroft will be providing treatment for Retina and Vitreous Diseases. ESA is pleased to have this experienced retina specialist resume caring for our patients.