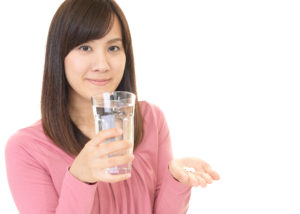 Abnormalities of the thyroid gland, which is located just below the voice box in the neck, can result in an over- or under-production of thyroid hormone. This hormone regulates your body's metabolism and energy use. If the thyroid gland stops producing enough hormone to keep the energy levels of the body going, that individual usually feels excessively tired, needs more sleep and often puts on weight since the body doesn't burn enough calories. The thyroid gland also enlarges in an attempt to produce more hormone; this is called a goiter. If the gland becomes inflamed, it often overproduces thyroid hormone which causes the affected individual to need a lot less sleep, be very energetic and lose weight due to the extra burning of calories from this increased activity level. This condition of an overactive, inflamed thyroid gland is called Graves' disease.
Forty percent of individuals who develop an inflamed thyroid gland also develop inflammation and swelling of the tissues around the eyes. This is called thyroid-related eye disease or TED. This swelling can cause the eye to abnormally protrude. The white covering of the eye will look red and inflamed, which can be either mild or extremely obvious. If the eyelid muscles are affected, the swelling induces the muscles to tighten and shorten. This tightening causes the eyelids to pull wider apart giving the individual a "staring" appearance. Occasionally the eyelids are unable to close completely, resulting in dried and eroded eye surface. If the eyeball muscles are also involved, the eye cannot turn normally and double vision results. Severe cases of eyeball muscle enlargement can squeeze the visual nerve and, if left untreated, blindness can result. Most individuals who develop these eye signs have already been diagnosed with a thyroid condition. Eyesight issues typically arise within six months in 80% of people diagnosed with abnormal thyroid function. The other 20% of those affected with eye issues could have thyroid changes either before or after the changes occur.
Blood tests tell us if thyroid disease is present in a patient. A variety of treatments are available to control thyroid levels, although treating the thyroid gland does not reverse changes in the eye. Time usually causes the eye changes to gradually settle and reverse. Individuals with mild eye changes may need only eye lubricants and oral anti-inflammatory pills to control the swelling while waiting for the condition to "burn-out" on its own. This may take weeks or months depending on the individual. Progressive variations in eyelid position, eyeball protrusion, inability to close and protect the eye, double vision or decreased vision requires more aggressive treatment. Oral steroids such as prednisone and cortisone may help control this. Low-dose radiation therapy is very effective at further reducing differences if steroids don't work or if symptoms continue to worsen. In rare cases, surgery is needed to make more room in the eye socket for these swollen tissues when vision is affected or if the eye protrudes so far it can't close well.
Once the condition burns out, most individuals return to a normal appearance or may have only mild residual changes that cause no further problems. A variety of reconstructive procedures that can restore a more normal eye appearance can be performed by eye surgeons who specialize in eye plastic and reconstructive surgery. Persistent double vision can be corrected by loosening tight eye muscles and giving a greater range of motion. Communicate with your doctor as soon as you have any eye problems. Early diagnosis of thyroid-related eye problems allows for easier correction and control.
BIO: Dr. Peter Fries, with Eye Surgeons Associates, is certified by the American Board of Ophthalmology and completed a fellowship in Ocular Oncology and Ophthalmic Plastic and Reconstructive Surgery. He practices at our Bettendorf and Rock Island offices.
The material contained in this article is for informational purposes only and is not intended to be a substitute for professional medical advice, diagnosis, or treatment. Always seek the advice of your physician or other qualified health care provider.