Carol's pet birds told her it was time to have her hearing checked. Her Quaker parrot started saying "what" to her after picking up on how often Carol was saying it. And her cockatiel was saying, "can you hear me?" based on conversations he was overhearing in Carol's house.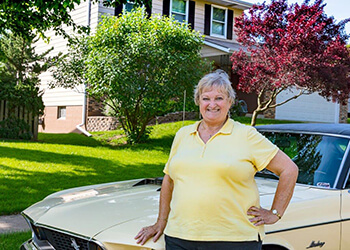 Carol knew she likely had hearing loss, but after being checked multiple times, she was told her hearing was fine and she was not a candidate for a hearing aid. But it didn't sound fine to her. She goes once a year to Eye Surgeons for an eye exam and thought maybe she should have her hearing checked there at her next eye exam. And sure enough, the evaluation at Eye Surgeons revealed she did have hearing loss in one ear and was a good candidate for a hearing aid.
Once Carol was fitted for her hearing aid at Eye Surgeons, she could immediately hear the difference. She was able to hear a baby crying in the lobby at Eye Surgeons, and the door to her exam room was closed. "It made me cry, too, when I heard that baby cry. And I cried all the way home because I was amazed at what I could hear. Now I tell my husband to turn down the volume on the TV and it seems I can hear everything. Even my dogs sound loud when they bark," says Carol.
Some patients put off having their hearing checked, but Carol was diligent about being checked and didn't stop asking about her hearing until she found the right solution at Eye Surgeons. "It's been a wonderful experience," explains Carol. "I would recommend Kyle to anybody. He's very caring and a wonderful consultant. I'm always glad to see him when I get my hearing aid cleaned every three months."
Carol has worn a hearing aid for six years now, but at Kyle's recommendation, won't be wearing it at the Indianapolis 500 race this Memorial Day, as he suggested she wear hearing protection instead, to protect the hearing that is left. She and her husband recently celebrated their 25th wedding anniversary and purchased a 1969 Ford Mustang to mark the occasion. Wearing a hearing aid hasn't slowed Carol down one bit.
"You don't realize what you don't hear…until you finally can hear," Carol concludes.