Larry didn't realize he was becoming a broken record. It was his young granddaughter who finally asked him, "Grandpa, why do you always say 'huh'?"
Working in shops in the Quad Cities for over 30 years likely contributed to Larry's hearing loss. Years ago, there was not as much awareness of hearing protection, which is now standard in industrial environments.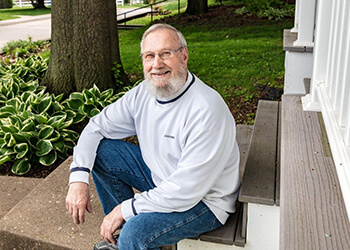 Larry sees the eye doctor at Eye Surgeons and decided to have his hearing checked there as well. A simple test revealed hearing loss in both ears. When told he would need to wear hearing aids, Larry said he wasn't nervous at all about what that would mean. "I was acting like I could hear for a long time and I was tired of pretending. I go now every three months to have my hearing aids checked and I wore my first set for about 10 years. The hearing aids are very comfortable and do the job. I have no complaints," he explained.
Since retiring, Larry's been active in the community, and he's hearing everything when he talks to people. He volunteers with Habitat for Humanity, exercises at the Life Fitness Center in Bettendorf and does impressive improvement projects in his yard.
Larry's advice to others suffering from untreated hearing loss is simple: get it taken care of because you end up missing a lot of conversations, especially if you have grandkids.