After a long, illustrious career, Michael Howcroft, M.D. will ease into retirement at the end of the year. Dr. Howcroft joined Eye Surgeons Associates (ESA) in June, 2002. He was recruited from Toronto, Canada where he was an associate professor at the University of Toronto. He was chief of the department of ophthalmology at St. Michael's Hospital Toronto from 1992 to 1999.
Dr. Howcroft completed retinal surgery fellowships at the University of Iowa and the University of Toronto. He is board certified in the U.S. and Canada. As a retina specialist, Dr. Howcroft, was privileged to see huge advancements in ocular treatments and surgery. He reflects, "In my career, prior to anti-vascular injections, there were limited treatments for wet macular degeneration, and no real hope to give patients faced with progressive visual loss. Today, anti-vascular agents have stabilized vision in wet macular degeneration and, in 35-40% of cases, improved vision. These same anti-vascular agents are now also being used to treat diabetic eye disease and visual loss from retinal vein occlusions."
During his career, Dr. Howcroft performed over 5,000 retinal surgeries and gave more than 35,000 intraocular injections. He was instrumental in bringing the first PASCAL laser to the Quad Cities, making Eye Surgeons the first practice between Chicago and Denver to offer this advanced method of treatment for proliferative diabetic retinopathy, that provides patients with a more rapid, precise and safe treatment, while improving overall comfort.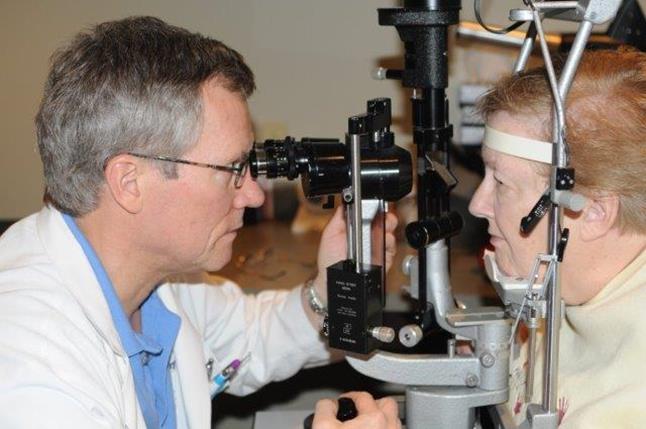 From 2003 to 2008, Dr. Howcroft was elected by his peers for inclusion in Best Doctors in America® and in 2015 received an American Academy of Ophthalmology Achievement Award. This award recognizes members of the Academy for their contributions as course instructors, committee members, councilors, or reviewers of Academy material and through presentations, papers, video, and support of advocacy efforts. He presented at many of the annual meetings of the American Academy of Ophthalmology and also the American Society of Cataract and Refractive Surgeons. Dr. Howcroft has been a member of the American Medical Association, Iowa Medical Society and also the Scott County Medical Society where he recently served on the executive committee as a member-at-large.
Dr. Howcroft states, "It's been a wonderful career. Eye Surgeons Associates is truly a special practice and I am very grateful to have been a part of it. I'd like to thank my patients, the medical community and staff for their loyalty, support and friendship. I leave knowing that the retina service is in the capable hands of Dr. Elshatory and that patients will continue to receive the best in eye care."
Dr. Yasser Elshatory joined Eye Surgeons in 2016 and completed his vitreoretinal fellowship at the University of Iowa and received his M.D. degree and Ph.D. in neuroscience from the University of Rochester before completing an ophthalmology residency at the University of Oklahoma. He is board certified.
Dr. Elshatory provides medical and surgical treatment for:
Age-related macular degeneration
Diabetic retinopathy
Retinal vascular disease
Complex retinal detachment
Uveitis
Ocular trauma
Dr. Elshatory sees patients in our Bettendorf and Rock Island clinics and has privileges at Genesis Medical Center and Spring Park Surgery Center.
Dr. Frederick, president of ESA, comments, "It's been an honor and a privilege to work side by side with Dr. Howcroft. His patients received the highest quality care. We will all miss the great skill he brought to the practice. We wish him and his family the best in retirement. As a practice, we are pleased to offer patients with macular degeneration, diabetic retinopathy and other retina issues continued care from Dr. Elshatory."