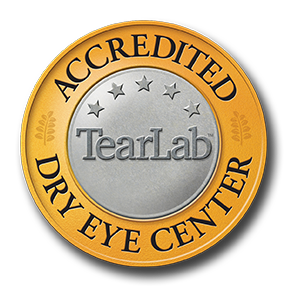 Millions of people suffer from Dry Eye Disease.
Dry eye symptoms include:
Redness
Burning
Itching
Fluctuation in vision
The feeling of sand or grit
Contact lens discomfort
Light sensitivity
Watery eyes
Tired eyes
If you have two or more symptoms, you may have Dry Eye Disease and should discuss your symptoms with your doctor.
Dry eye (also called dry eye syndrome) is a very common condition. Dry eye occurs when people don't have either enough tears or the correct composition of tears, on the surface of their eyes to lubricate the eyes and keep them comfortable. Dry eye disease and reduced production of tears are associated with aging and hormonal changes, such as menopause.
Systemic medications including blood pressure medications, antidepressants, and antihistamines, can decrease tear production. Certain medical conditions, such as rheumatoid arthritis and Sjogren's syndrome, are also linked with dry eye. External factors, like cigarette smoke, dry or windy environments, and contact lens use, can also contribute to dry eye disease.
Dry eye syndrome is associated with a decreased ability to perform activities that require visual attention, such as reading and driving a car. Patients with the most severe disease are at increased risk of developing a corneal infection, scarring, or ulceration.
Diagnosing
In the past, doctors had to rely on your description of the symptoms and dye testing to diagnose this disease and had no good way to measure whether it was getting better. Now with TearLab technology, you can be tested and given objective results immediately. Your doctor will take a sample of tears from each eye and use the TearLab to measure osmolarity.
The sample required is no larger than the period at the end of this sentence. Once your osmolarity number is determined, your doctor can design a treatment regimen tailored to your condition. We also use InflammaDry®, the first and only, rapid result, in-office test that detects elevated levels of MMP-9, an inflammatory marker that is consistently elevated in the tears of patients with dry eye disease.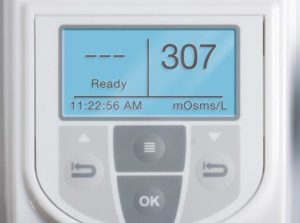 Treatment
The first line of treatment is usually artificial tears that give some temporary relief. These solutions and ointments do little to arrest or reverse any damaging conditions. Many brands are available without a prescription. For mild cases, try several to find the one you like best. The preservatives in some eye drops can irritate the eye; preservative-free artificial tears may be required. Researchers are trying to develop better artificial tears, especially ones that are formulated to normalize the electrolyte balance while lubricating the ocular surface. One promising new treatment now in clinical trials is the use of eye drops containing androgen. Nutritional supplements such as flaxseed or fish oil capsules may also be beneficial.
For more severe cases of dry eye, in which the cornea is inflamed, anti-inflammatory agents are sometimes prescribed. Topical steroids (in eye drops) are safe for short-term use, to combat inflammation, but can cause side-effects when used for a long time. RESTASIS™ and XIIDRA™ prescription eye medications are a valuable treatment option for many dry eye patients. RESTASIS combats dry eye disease by helping the eyes produce healthier and more abundant tears. XIIDRA is approved to treat the signs and symptoms of the disease.
Tears drain out of each eye, and into the nose, through a small channel. These channels can be closed either temporarily with tiny plugs (punctal occlusion) or permanently, to keep the tear film on the surface for a longer time.
The most recent treatment for dry eye disease, TrueTear®, is an FDA approved nasal neurostimulation device. An alternative treatment to drops and drug-free, TrueTear helps patients produce their own tears through gentle pulses of energy to the nasal mucosa for immediate and potentially longer-lasting production of natural tears. Please see below for important safety information.
INDICATION
TrueTear® provides a temporary increase in tear production during neurostimulation to improve dry eye symptoms in adult patients with severe dry eye symptoms.
IMPORTANT SAFETY INFORMATION
CONTRAINDICATIONS: Do not use TrueTear® if you have a cardiac demand pacemaker, implanted or wearable defibrillator, or other implanted metallic or electronic device (eg, cochlear implant) in the head or neck, chronic or recurrent nose bleeds, a bleeding disorder (eg, hemophilia), a condition that can lead to increased bleeding or a known hypersensitivity (allergy) to the hydrogel material.
WARNINGS: Do not use TrueTear® around electronic monitoring equipment (eg, heart monitors or electrocardiogram alarms), in the bath/shower, while driving, operating machinery, or during activity in which sneezing/watery eyes may cause risk, areas other than the nose, within 3 feet of shortwave or microwave therapy equipment, around flammable anesthetic mixture (air, oxygen or nitrous oxide). Do not continue using TrueTear® if your nose is irritated.
The device is limited only to the improvement in dry eye symptoms, as the safety and effectiveness for neither the treatment of dry eye disease nor use for periods longer than 6 months has been established. Safety not established in pregnancy, patients under 22 years of age, patients with nasal or sinus surgery (including nasal cautery) or significant trauma, severe nasal airway obstruction or vascularized polyp; active, severe systemic or chronic seasonal allergies; rhinitis or sinusitis requiring treatment; untreated nasal infection; and disabling arthritis, neuropathy, severe dexterity impairment or limited motor coordination. Use only the manufacturer's supplied accessories.
PRECAUTIONS: Consult your doctor on TrueTear® instructions before use and on discontinuing use if pain, discomfort, or numbness in the nose persists after reducing for higher levels/longer sessions. Remove studs, nose rings, or other nose jewelry before use. Do not use prescription eye medications or nasal sprays 30 minutes before or after using TrueTear®. Consult your doctor before use if you have suspected or diagnosed heart disease. Keep away from children. Clean as directed. Failure to replace the tip as directed will cause the device to not work properly.
ADVERSE EVENTS: Nasal pain, discomfort or burning; short-term electrical discomfort; nosebleed; nasal congestion; headaches; trace blood in nostrils; facial pain; sore eye; sinus pain; pain around the eye; runny nose; nasal ulcers; and light-headedness.
Caution: Federal law restricts this device to sale by or on the order of a licensed physician. Proper patient training on the use of the device is required before home use. For the full Directions for Use, please visit www.allergan.