Oculoplastics
Oculoplastics is a sub-specialty of Ophthalmology that restricts itself to disease and surgery on the eyelids, the structures around the eyelid known as the orbit, the tear drainage system, and the upper face. It encompasses a range of cosmetic and reconstructive services to improve function, comfort, vision and aesthetics. The position of the eyelid is vital to the health of the eye. Lid malposition can occur as people age, from trauma or other disease processes. The eyelid can become droopy, known as ptosis, the eyelid skin can become redundant, and sometimes the eyelid can turn inward and the eyelashes rub against the eye (entropion) or the lower lid can pull away from the eye (ectropion).
Oculoplastic Surgery
Oculoplastic surgery combines the two integral disciplines of Ophthalmology and Facial Plastic and Reconstructive Surgery. A fellowship trained Oculoplastic and Orbital Plastic Reconstructive surgeon, Dr. Kathleen Albrecht, is a facial plastic surgeon, specializing not only in eyelid and orbit surgery for functional problems, but also to improve appearance and facial rejuvenation of the mid-face and forehead. She combines aesthetic surgery with functional surgery to restore youthful anatomy. Her training in ophthalmology as a board-certified ophthalmologist gives her a unique perspective of understanding eye comfort and visual concerns. She is also an accomplished eye and facial trauma surgeon.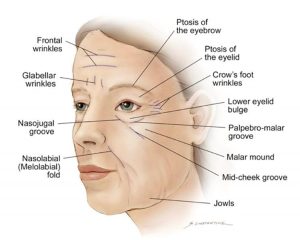 An Oculoplastic Surgeon also treats:
Skin cancer is a serious health threat. Skin cancer can occur in the eyelids and around the eye. Any discoloration, bump, or new growth on the eyelid should be examined by an eye physician. Especially worrisome signs include bleeding, rapid growth, or destruction of the normal eyelid appearance.

The vast field of orbital disease and surgery which encompasses problems like Graves' Orbitopathy, Thyroid eye disease, cancer, infection, and congenital and vascular malformations.

A common complaint of many patients is tearing. This can occur for many reasons, including a blocked tear drainage system. This affects children and adults. Dr. Albrecht uses the innovative endoscopic no-stitch technique for blocked tear ducts.

Disorders of facial movement, including benign essential blepharospasm and hemi-facial spasm. These can sometimes be treated with BOTOX®. BOTOX is purified botulinum toxin which when injected locally, prevents a muscle from contracting. Ophthalmologists have been using BOTOX for many years in the treatment of these disorders. BOTOX can also be used for cosmetic purposes.

Cosmetic surgery of the eyelids, and elevation of the midface and eyebrows. Plus rejuvenation of the face and eye area using Botox and different facial fillers such as Restylane.
Dr. Albrecht's goal is to restore function, comfort, and improve vision while giving the patient the best aesthetic appearance possible.