Oculoplastic & Reconstruction in and around the Eye
This service deals with disease and surgery of the eyelid, the structures around the eyelid which are known as the orbit, and the tear drainage system, the lacrimal system. The position of the eyelid is vital to the health of the eye. Lid malposition can occur as people age or from other disease processes. The eyelid can become droopy, known as ptosis, the eyelid skin can become redundant, and sometimes the eyelid can turn in or out. There are many names for lid malpositions, such as ectropion, entropion, ptosis, for example.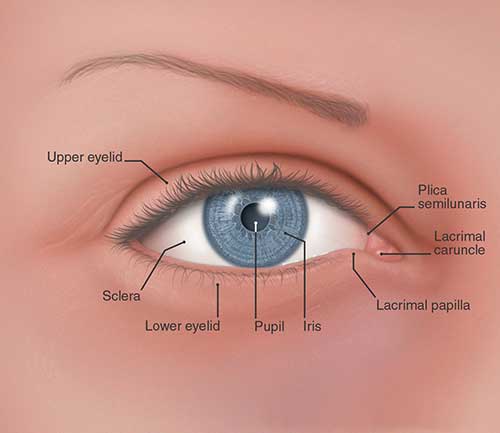 A fellowship-trained Ophthalmic & Reconstructive surgeon, specializes in plastic and reconstructive surgery in and around the eye which includes the medical and surgical treatment of trauma, eyelid malpositions, tear drainage problems, cancers in and around the eye, and abnormalities of the tissues of the eye socket.
Other diseases an Oculoplastic Surgeon would treat
Skin cancer has become a serious health threat. Skin cancer can occur in the eyelids and around the eye. Any discoloration, bump, or new growth on the eyelid should be examined by an eye physician. Especially worrisome signs include bleeding, rapid growth, or destruction of the normal eyelid appearance.
There are many diseases that affect the structures around the eyelid, in addition to the eyelid. The vast field of orbital disease and surgery encompasses problems like Graves' Orbitopathy, cancer, infection, and congenital and vascular malformations.
Cancer and other diseases and malformations of the orbit can often involve surrounding structures, like the sinuses and brain. Sometimes disease or trauma causes loss of an eye.
A common complaint of many patients is tearing. This can occur for many reasons, including a blocked tear drainage system. This affects children and adults.
There are many disorders of facial movement, including benign essential blepharospasm and hemifacial spasm. These can sometimes be treated with BOTOX®. BOTOX is purified botulinum toxin which when injected locally, prevents a muscle from contracting. Ophthalmologists have been using BOTOX for many years in the treatment of these disorders. BOTOX can also be used for cosmetic purposes.